The Templenet Encyclopedia
Temples of Tamilnadu
Home Page of
Mahalingeswarar Temple at Tiruvidaimarudur near Kumbakonam
(Paadal Petra Stalam)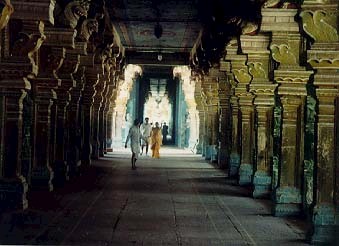 Deities: Mahalingeswarar (Shiva), BrihatSundara Kuchambal (Parvati)
Location: Tiruvidaimarudur in Tamilnadu near Kumbakonam.
Significance: This huge temple is one of the greatest Saivite shrines in Tamilnadu and is referred to as Madhyarjuna Kshetram and is said to be on par with Chidambaram and Varanasi. Madhyarjunam translates into 'Idai Marudu' in Tamil. Marudu stands for the stala vruksham maruda maram. Kings from as far away places are said to have visited this shrine. The presiding deity here is Shiva as Mahalingeswarar. Such is the glory of Mahalingeswarar that it is considered that some of the grand temples in the vicinity constitute the parivara devata shrines of Tiruvidaimarudur. For instance, this temple is flanked by Tiruvalanchuli with its grand temple dedicated to Vinayaka, the well known Swamimalai with its revered shrine to Subramanya, Tiruvarur the greatest of the Vitanka Stalams with Somaskandar, Tiruvavaduturai with its shrine to Nandikeswarar, Sirkali with its shrine dedicated to Bhairavar, Tiruseingnalur with its shrine to Chandikeswarar, the Suryanar temple with shrines to the nine celestial bodies Navagrahas and Alangudi known for its Dakshinamurti shrine respectively.
Antiquity The origins of this temple are buried in antiquity. The tamil Saivite saints Appar, Sundarar, Manikkavacakar and Sambandar have sung praises of this temple. Sambandar has sung the glory of of Samba Dakshinamurthy who is also enshrined here along with his consort.Stone inscriptions that are about 1200 years old are found in this temple.
Architecture: This is a huge temple constructed in the Dravidian style with lofty towers and sprawling circumambulatory paths. . Other shrines in the temple: The consort of Shiva is worshipped as Perumulai Naayaki or Brihad Sundara Kuchambal. There is a Shakti temple within the temple complex dedicated to Mookambika built in the North Indian style. There are as many as 35 Theerthams associated with this temple of which the Karunyamritha Tirtham is the best known.
Worship: Six worship services are offered during the course of a day. It is said that in order to demonstrate the Saivite worship protocol, Shiva is said to have offered worship to His Self in this shrine. The Taippoosam festival in the month of Capricorn (January 15 through February 15) is of great significance here.
Access and Accomodation: Kumbakonam
[Temples of Tamilnadu][The Templenet Encyclopedia - Index to States]