Weekly Feature -Sep 26 1999 Previous Week (A trip to Kanheri)
Templenet Archives
Encyclopedia of Indian Temples
Indian Temple Architecture
Travel and Tourism (Maps)
Festivals and Fairs
Legends & Beliefs
Glossary of Terms
Templenet - The Ultimate Source of Information on Indian Temples


Tamilnadu Tourism
District Map of Tamilnadu

Feedback & Information:
webmaster@templenet.com
©1996 K. Kannikeswaran
All Rights Reserved.
Templenet
where
Tradition Meets Technology
---
A Gallery of South Indian Temple Vimanams




Ratnasabha Vimanam at the Vadaranyeswarar Temple, Tiruvalankadu - one of the five revered Sabhas of Natarajar, near Chennai.
Gajaprishta Vimanam (Pallava Style) common to the Tondai Naadu region of Tamilnadu - at the Otthaandeeswarar temple at Tirumazhisai, near Chennai.
Kalasam of the Jalakanteswarar Temple Vimanam, Vellore, Tamilnadu.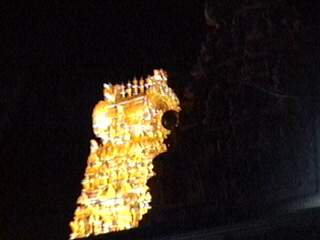 The Kamakshi Amman Temple Vimanam, Kanchipuram, Tamilnadu.
The Gold Plated Srirangam Temple Vimanam, Srirangam, near Tiruchirappalli, Tamilnadu.
The grand Periya Koyil Vimanam at Thanjavur, Tamilnadu