How to use this site
What is New
Featured Articles
Encyclopedia of Indian Temples


Indian Temple Architecture
Travel and Tourism (Maps)
Festivals and Fairs
Myths and Legends
Glossary of Terms
---
To advertise in this site or to get more information, please contact:
webmaster@templenet.com
©1996 K. Kannikeswaran
All Rights Reserved.
This site is created and maintained by
Heritage Net Associates
where
Tradition Meets Technology
Hosted by Blueshift Inc.
---
The Templenet Encyclopedia
Temples of the Gangetic Plains
Home Page of
Mahabodhi Temple at Bodhaya near Bodhgaya(Bihar)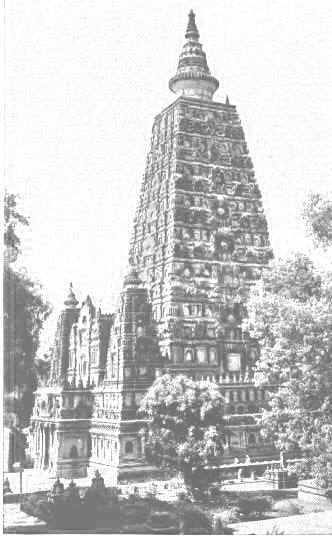 Deities: Buddha
This temple dates back to the 3rd century BC (Emperor Ashoka). The current structure was restored in 1882 and earlier in the 11th century. The Chinese pilgrim and traveller Hyuen Tsang whose writings form a basis of dating events and entities is said to have visited it in 635 AD. There is a large gilded image of Buddha in the temple which has a 50 meter high pyramidal spire.
Access and Accomodation: Bodhgaya
[Temples of the Gangetic Plains][The Templenet Encyclopedia - Index to States]